Virtual Event
Wellbeing at Work: Purpose-driven Performance
May 27, 2021 @ 11:00

-

11:45

CEST

Virtual Event

100kr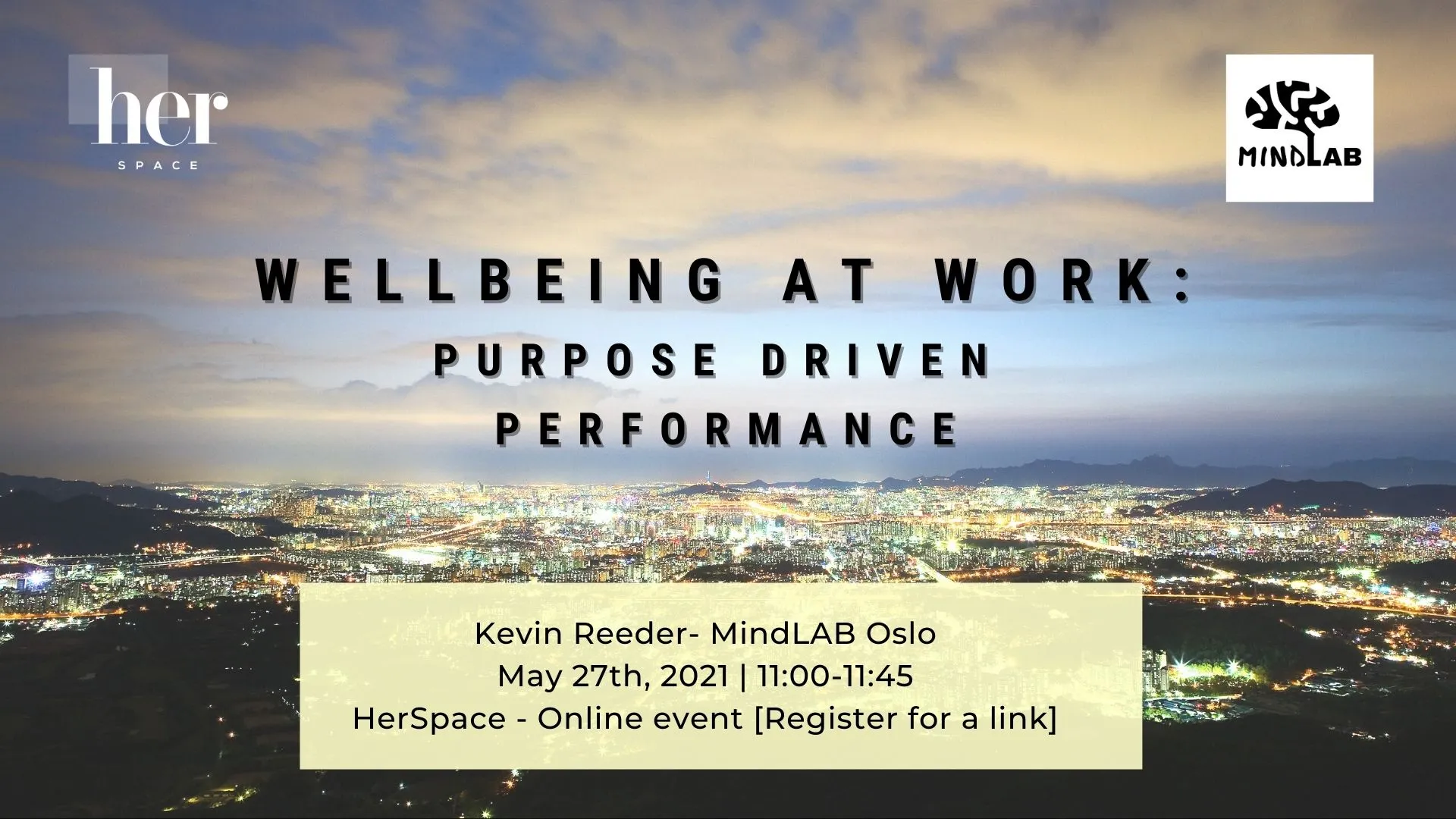 Wellbeing @ Work

Presence, Positivity & Purpose
The world of work is changing dramatically due to increased complexity and unpredictability and compounded by the stress of a prolonged pandemic.
The impact of this on our mental health at work is suggested by Harvard Business Review's Beyond Burnt Outstudy:
·     62% experienced burnout more frequently in 2020
·      89% of people's work life had worsened. 
So how can you ensure that your working life is more about thriving than surviving? This mini-course explores how to use presence, positivity and purpose to infuse your workspace with wellbeing.
Session 3: Wellbeing@Work −Purpose-driven 
Performance

Most organisations today face constant unpredictability and continued, rapid change. Many focus on innovation, with regular makeovers, reshuffles and rapid iteration processes. Despite this, and the resulting stress and speed it generates, why does much remain the same, or change slowly?
Welcome to the 90% club! The science suggests that we all, on average, operate on "auto-pilot" −repeating the same thoughts, feelings and behaviour −around 90% of our time at work.  This is especially true when we have to work quickly and face constant change. This session explores how to play the "Inner Game"−to use presence and positivity to connect with purpose and infuse your work with creativity.
---
COST:
NOK 100 per session.
*Free for HerSpace members.*
*Includes Presence & Positivity practice Cheat Sheets

---
This is a program developed by MindLAB Oslo (Tilstedeværelse Oslo)
HUMANISING THE WORLD OF WORK — ONE MIND AT A TIME —
MindLAB helps organizations and companies to develop resilience, sustainable culture and wellbeing as counterweights to key workplace challenges such as stress, attention deficiency and burnout.
> MindLAB IS A MENTAL TRAINING STUDIO for co-creating working methods and tools tailored for 21st century workplaces.
>MindLAB DEVELOPS AWARENESS@WORK AND WELLBEING@WORK PROGRAMS based on the 3 P's (Presence, Perspective & Purpose) and 4 C's (Calm, Creativity, Compassion& Contentment).
MindLAB PROGRAMS COMBINE insights from neuroscience with mental training techniques already tried-and-tested by leading organizations, such as Google, Apple, Nike, Sony, eBay, LinkedIn and IKEA.
> MindLAB can train you (your Personal MindTRAINER)
> MindLAB can train your team (in interactive workshops/online trainings)
> MindLAB can inspire your team (through Breakfast Briefings & Lunch&Learn sessions)
> You can join us in the MindLAB to experience the Awareness@Work & Wellbeing@Work methods