Virtual Event
Blaze Inclusion Awards: Centring Equity in Nordic Diversity and Inclusion Ambition
March 21 @ 12:00

-

13:30

CET

Virtual Event

Free
The Blaze Inclusion Awards celebrate and illuminate the trailblazers – individuals and organizations – who actively and passionately uplift Diversity, Inclusion, Equity and Belonging (DEIB) initiatives in their workspaces, communities and society overall. 
Blaze panel discussions will follow nominations and voting periods for the Blaze Inclusion awards and will take on important DEIBJ topics featuring speakers from 8 Nordic countries.
Topic for the first Blaze panel discussion is Centring Equity in Nordic Diversity and Inclusion Ambition
In the Nordics there is a significant focus on equality instead of equity. How does that create exclusion for underrepresented groups in the Nordics? What is the difference between equality and equity? Why is equity prerequisite for equality? How can we move away from focusing on equality in the Nordics and start focusing on equity?
This event will be held online via zoom. Please register below to receive the zoom link.
---
We are in the nomination period so read more about Blaze Inclusion Awards and nominate here! 
---
Speakers:
Laura Smith
Laura Smith is a Helsinki-based organizational researcher and founder of VALIDEI, a research agency specializing in the assessments of organizational inclusion, equity, and social responsibility.
An active startup mentor and the former Head of DEI at Bolt, Laura specializes in developing organizational strategies and evolving internal practices, policies, and supports to be both equitable and impactful for stakeholders across scaling organizations.
Nichole Leigh Mosty
Nichole Leigh Mosty is a Director at Multicultural Information Centre Iceland.
Nichole is a first generation immigrant to Iceland. She is the first woman of foreign origin to have been elected to sit in the Icelandic Parliament in 2016 as a deputy speaker and Chair of the committee on Social Affairs. 
Nichole now heads the government agency for immigrant  and refugee affairs, where her primary function is to stimulate integration through the dissemination of information to people of diverse backgrounds living in or moving to Iceland while also working on policy and reform issues related to integration with authorities at local and national levels, institutions, businesses, organizations and committees.
Mamtha Pullat
Mamtha Pullat works at Volvo Cars as a Diversity Recruitment Strategist. Mamtha has experience working with these topics in the last couple of years where she worked at Telia as a Global D&I specialist. For Mamtha, diversity is all about embracing people's differences towards a more inclusive culture where everyone feels safe and is treated equally. Prior to moving to Sweden, she was based in India where she worked in the non-profit space working to help bridge the education gap in India for children from underprivileged backgrounds.
Carolina Sarubbi Vestergaard
Carolina is the Customer Success Executive and Vice-Chairwoman of Global Women's Leadership Community, Red Hat. As a Customer Success Executive and Vice-Chairwoman of the Global Women's Leadership Community at Red Hat, Carolina provides strategic support to customers as they look to open source and adopt open hybrid cloud technologies to drive business transformation initiatives.  Carolina's focus areas are Digital Transformation; Leadership; Digitalization. Carolina is passionate about PEOPLE and how technology and process tag along.
Jane Carlsson
Jane Carlsson is an Equality consultant and project manager at Åland Feministparaply. She works in a project that aims to combat sexual harassment in Åland society. The work focuses on schools but also associations that have activities for children and young people. The work in the project is consultation with the schools and the leisure sector so that all young people feel safe at there activities. Through lectures, workshops and talks, young people, leaders and staff are provided with knowledge and tools to counter sexual harassment and discrimination.
Moderator: Chisom Udeze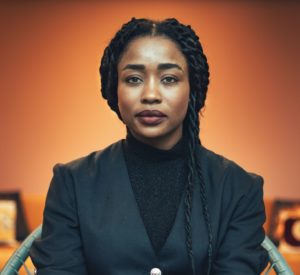 Chisom is an Economist, a DEIB Strategist, and a 3 times founder of impact driven companies. She has over 14 years of experience working with organizations like the European Commission, The United Nations, ExxonMobil and The Economist Group. Chisom is analytical and a data enthusiast. She is passionate about interrogating the cross-sectoral relationship between society's inhabitants, resources, production, technology, distribution and output. She efficiently and effectively unlocks complex systems, interprets data, forecasts socio-economic trends and conducts research.
Having lived and worked in 7 countries across 3 continents, she is highly adaptable to different circumstances and people, and thrives in uncertain environments.
As the founder of Diversify and Diversify Consult, Chisom and her team work with companies, institutions, governments and civil society to develop sustainable DEIB strategies and embed measurable diversity and inclusion initiatives in the workplace and society. In addition, in 2022, Diversify launched the Diversify Nordics Summit, the largest conference in the Nordics that gathers cross-sectoral stakeholders to amplify DEIB in the Nordics and beyond.
In 2020, she founded HerSpace, a diverse and inclusive co-creation community for all genders, with particular focus on women and non-binary people. In 2022, HerSpace launched HerTech, Women in Tech incubator, for women-led companies, with a focus on the inclusion of diverse founders.
Chisom is a thought-leader in Diversity, Equity, Inclusion and Belonging (DEIB) and a passionate advocate for mental health and wellness. She is an entrepreneur at heart and committed to life-long learning. She enjoys playing tennis, reading, binge-watching TV shows and cooking.
Details
Date:

March 21

Time:

12:00 - 13:30

CET

Cost:

Free

Event Category:

Event Tags:
Organizers
HerSpace

Blaze Inclusion Awards

Diversify