Hybrid Event
SuperConnectors: who are they and how are they changing society?
September 26, 2022 @ 09:30

-

11:30

CEST

Hybrid Event

Free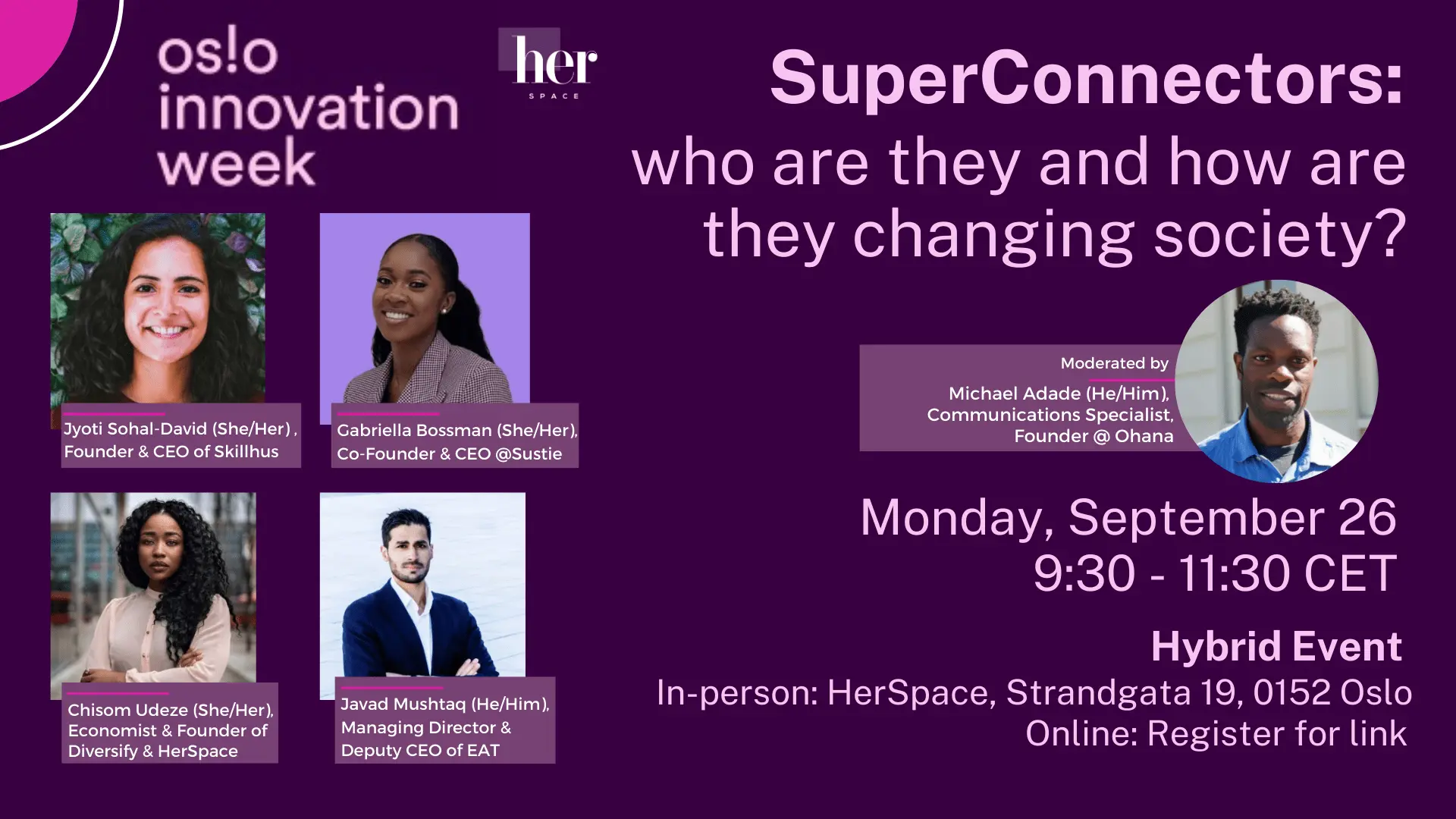 Oslo Innovation Week is a collaborative forum that brings together leading minds to tackle some of the world's biggest challenges. It celebrates new voices and change makers who are passionate about pioneering solutions that put a dent in the world.  
This year, in collaboration with HerSpace, moderator and communications specialist, Michael Adade, will kick off this year's event with a stellar panel of women and one of the country's best known young male leading voice, all of whom are known for being super connectors. They share the skill of bringing people together across geographies, job functions, industries and education levels to create impact on both a local and global level. At their core, they understand the primacy of relationship-building.
Our formidable panelists discuss why and how they do what they do, what characteristics they possess that help them harness their relational skills and how they nurture their networks to create positive change.
In this session, we will dive into how to become a super connector and connect with those who are. We will also discuss the importance of celebrating differences when bringing people together.
The panel discussion will begin at 9:30 am so we suggest you arrive at least 10 minutes earlier. The session will go on for an hour. There will be time for networking from 10:40 am onwards. You can then walk to Oslo City Hall for the opening ceremony of Oslo Innovation Week.
This is a hybrid event. It is free to attend. This event is co-produced by HerSpace and Oslo Business Region.
---
Panelists:
Gabriella Bossman (She/Her)
Gabriella Bossman is a strategic thinker who takes a people centred approach to problem solving and solution design in transformational delivery.
With experience in the public, private and third sector respectively, she has held programme and leadership roles internationally, placing people and authentic relationships at the centre. Gabriella is driven by seeing people and programmes, especially those with evident potential and planned benefits to society, achieving their goals. Gabriella has worked towards this both in her professional career but also as a mentor for many young people, a trustee on various charitable boards and as a host and speaker at international events. She is committed to being an active contributor and change agent in any community she is in and strives towards creating curious and inclusive teams. Gabriella is a start up leader in sustainable fashion, building a product to change the way we shop online!
Jyoti Sohal-David (She/Her)
Jyoti Sohal-David is the Founder & CEO of Skillhus, a recruitment and consultancy agency that specializes in increasing diversity and inclusion in Norwegian workplaces. As an entrepreneur, recruiter, diversity coach, and passionate individual she has facilitated and delivered workshops within the diversity and inclusion space. Her multicultural background and experiences of working and living abroad led her to pursue her passion for working in the Diversity, Equity, Inclusion and Belonging space.
Javad Mushtaq (He/Him)
Javad is a multi-award winning young professional, recognized global impact leader, diversity champion, serial social entrepreneur and early stage impact investor from Norway with roots from Pakistan. In addition to being the Deputy CEO / Managing Director of EAT Foundation, Javad is also the Founder and CEO several social organizations, including MAK (Diversity, Equity and Inclusion), MinMentor (Education for All, reduction of dropout rates), JM Ventures (Norway's first impact investment and advisory firm focusing on diversity, innovation and startups) and WE& Capital (Diversity-led early stage VC). He serves as the youngest person in several Board of Directors, Advisory Boards, and has been part of the Norwegian Government's Expert Committee on Lifelong Learning.
Javad has been widely recognized for his work, as Kapital's 40 under 40 in Norway, Norway's top leadership talents under age 35, European "Coca Cola Hero of the Year – Highly Commended" recognition for his on Diversity and Inclusion, and received "Pride of Performance" award handed out by the Norwegian Prime Minister, and is also a World Economic Forum Global Shaper.
Javad's expertise include (social) entrepreneurship, impact investing, emerging markets, innovation ecosystems, technology, education for all, and diversity.
Chisom Udeze (She/Her)
Chisom is an Economist, Organizational Design and DEI Strategist, and a 3 times founder of impact driven companies. She has over 13 years of experience working with organizations like the European Commission, The United Nations, ExxonMobil and The Economist Group. Chisom is a data enthusiast and analytical. She is passionate about interrogating the cross-sectoral relationship between society's inhabitants, resources, production, technology, distribution and output. She efficiently and effectively unlocks complex systems, interprets data, forecasts socio-economic trends and conducts research.
Having lived in 7 countries across 3 continents, she is highly adaptable to different circumstances and people, and thrives in uncertain environments.
As the founder of Diversify, Chisom works with companies, governments and civil society to facilitate measurable diversity and inclusion initiatives in the workplace and society. In 2020, mid-pandemic, she founded HerSpace, a diverse and inclusive co-creation community for all genders, with particular focus on women. HerSpace is launching a Women in Tech incubator in August 2022, for women-led companies, with a focus on the inclusion of diverse founders.
Chisom is a thought-leader in Diversity, Equity, Inclusion and Belonging (DEIB) and a passionate advocate for mental health and wellness. She is an entrepreneur at heart and committed to life-long learning. She enjoys playing tennis, reading, binge-watching TV shows and cooking.
Moderator
Michael Adade (He/Him)
Michael is an English trained lawyer, public relations professional and serial entrepreneur who has worked both across the public and private sector. He passionately believes in the power of messaging and storytelling in order to reach people, both as citizens and consumers. Michael is convinced the next progressive and technological age will be characterised by community builders and those builders will be the wealth creators of the future. Michael has recently graduated from the Charge Incubator, one of Oslo's leading start-up ecosystem institutions, and is focused on changing the way we deliver grooming services with his new health & beauty tech start-up, 'Ohana'.