Virtual Event
Diversity and Inclusion in the Workplace: Pulling the Plug on DEI Buzzwords
November 24, 2021 @ 13:00

-

15:00

CET

Virtual Event

Free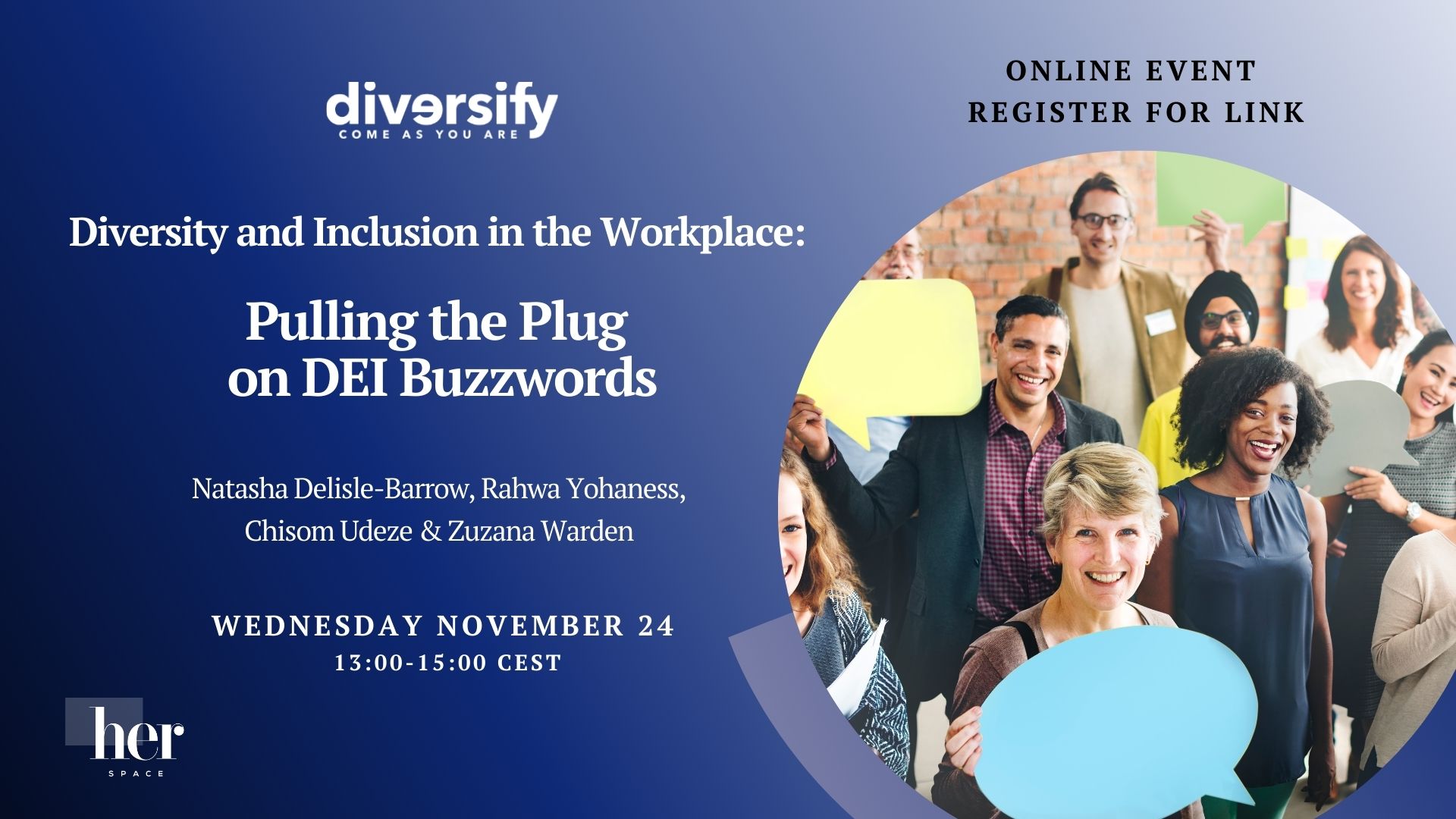 Diversity and inclusion in the workplace is imperative for a sustainable, competitive and innovative company and society at large. Diversity also goes beyond the outward perception of a company – it includes how the internal structures work and signal the value systems of an organization's management or leadership team.
This series is designed by Diversify to centre Diversity and Inclusion in the Workplace. We look forward to seeing you!
---
Diversity and Inclusion in the Workplace: Pulling the Plug on DEI Buzzwords
Buzzword (noun):  a word or expression from a particular subject area that has become fashionable by being used a lot, especially on television and in the newspapers:
"Diversity" is the new buzzword in education.
Well, there we have it.
Given the spike in popularity of DEI recently, we acknowledge that Diversity, Equity, and Inclusion are buzzwords in themselves.
Since beginning our Diversity and Inclusion in the Workplace discussions, almost one year ago, we have often explored the question; what does it really mean to be a Diverse, Equitable and Inclusive workplace?
We know that it is more than a one-off training, more than having a Diversity department, and more than a campaign to diversify your recruitment. Although these things are a beginning, it takes more to establish equitable practices within the organisational structure and for the workplace to be inclusive along a range of diversity parameters.
So what are other expressions and phrases which have been thrown around in recent times, and perhaps sound fantastic, but have become somewhat hallow?
Can a workplace be "psychologically safe" for everyone, all the time?
Can you "bring your full self to work"? And what does this actually mean in practise?
And about that "unconscious bias training", how well does it work?
How about good intentioned recruitment strategies, diversity statements and triggering words used on those job ads? What do they indicate about the work to be done?
Who should be speaking up? And who should be held accountable?
Join us to explore these questions and many more!
This event is held online, and is free to attend with registration.

---
The Speakers:
Natasha Delisle-Barrow
Natasha Delisle-Barrow is a London based Senior People + Culture practitioner, who regularly partners with Business Leaders and Founders to scale their organisations. To date she has worked with businesses across The Netherlands, Sweden, Norway, Denmark, Spain, Italy and Germany.
As an Organisational Design Specialist and Equity Activist, Natasha challenges traditional thinking and leadership by creating equitable organisation structures which ensure that Diversity + Inclusion are at the core of Business Strategy.
Rahwa Yohaness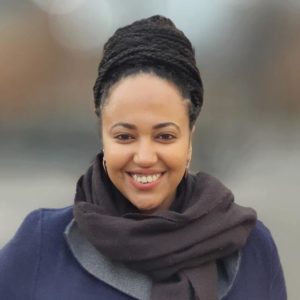 Rahwa is a public speaker, activist, social critic, and the founder and director of Manifold Norway. Rahwa has years of experience in community organising and bringing people with diverse backgrounds and experiences together. She practices a policy of "walking the talk" and engages with people who have lived experience in everything she does.
Rahwa is currently running a campaign about "kvitteringsordning" to promote the implementation of a policy to document all police stop and control activities. She was also one of the main organisers behind the "We Can't Breathe" demonstration in Oslo, which mobilised 15 000 people in June 2020.
Rahwa collaborates with grassroots organisations, academics, artists, and activists in the diaspora to organise and facilitate various events, including panel discussions, educational and artistic workshops, and community gatherings. She currently works as an advisor for the Norwegian Council for Africa, a human rights and solidarity organisation working to increase knowledge about the African continent.
Chisom Udeze
Chisom is an Economist, Organizational Design and DEI Strategist, and a 3 times founder with over 12 years of experience working with organizations like the European Commission, The United Nations and ExxonMobil. Chisom has an analytical mind and works to interrogate the cross-sectoral relationship between society's resources, production, distribution and output. She is adept at efficiently and effectively unlocking complex systems, data management, forecasting economic and social trends, and thrives in uncertain environments.
As the founder of Diversify, Chisom works with companies, governments and civil society to facilitate measurable diversity and inclusion initiatives in the workplace and society. In 2020, mid-pandemic, she founded HerSpace, a diverse and inclusive co-creation community for all genders, with particular focus on women-led companies and mothers. She is a thought-leader in Diversity, Equity, Inclusion and Belonging (DEIB) and a passionate advocate for mental health and wellness.
Moderator:
Zuzana Warden
Zuzana has a professional background in social work, international development cooperation and project management. Her experience from working with marginalized groups stretches across a number of countries. Besides volunteering with various groups such as homeless people and marginalized members of the Roma minority, she coordinated inclusive empowerment projects aiming to support women and persons with disabilities from rural and slum areas via training in entrepreneurship and vocational skills. As a Project and Research Manager at Diversify she continues to broaden her expertise within organizational work and operation, with high focus on monitoring and evaluation and project management.
Related Events