Holistic Body Wisdom
November 21, 2022 @ 18:00

-

20:30

CET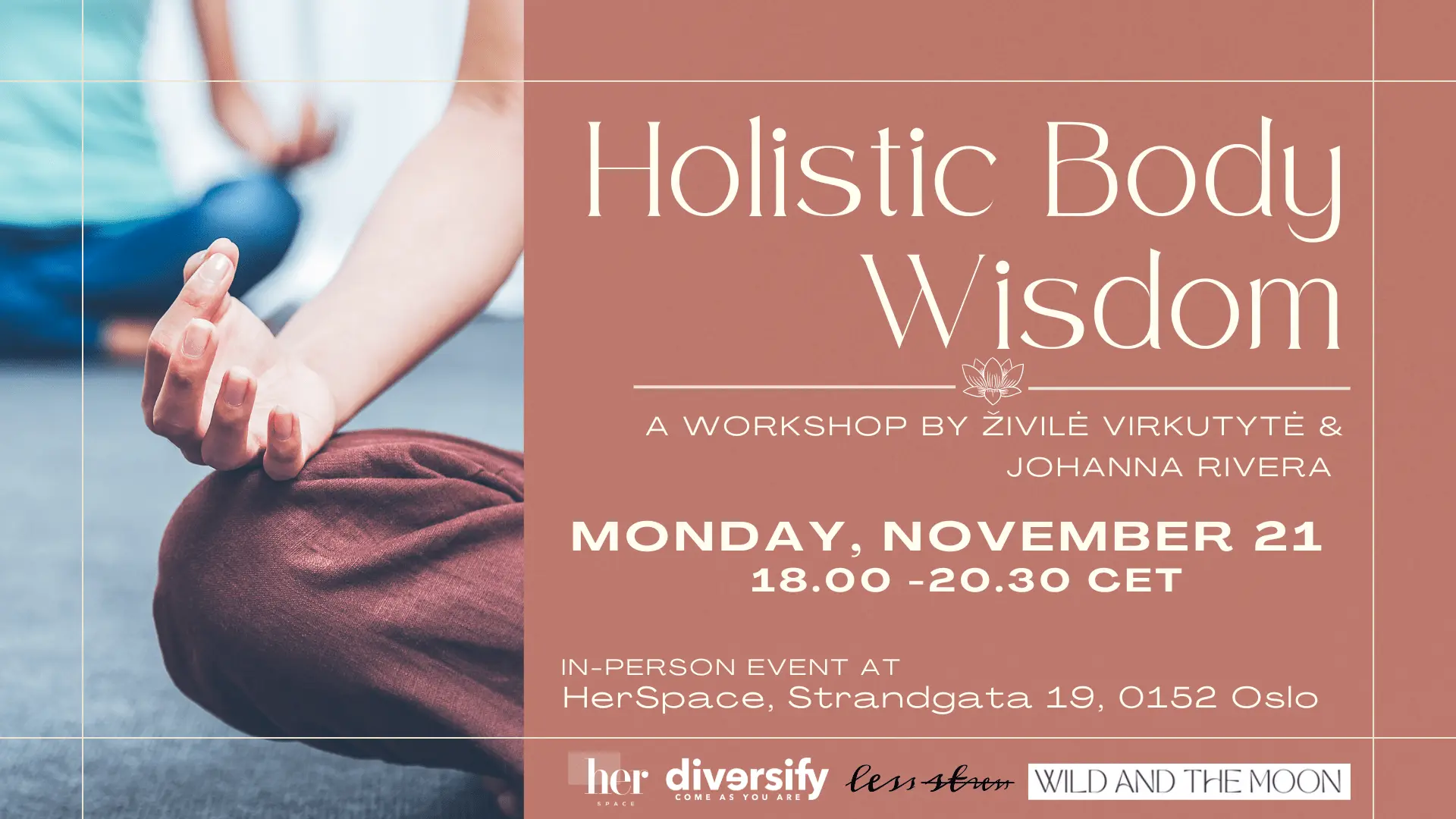 A Workshop on Holistic Body Wisdom
This workshop will focus on body intelligence and brain-body connection. We invite you to explore holistic BODY wisdom, which means to understand what your body needs so that you can function at your best level physically, mentally, emotionally and spiritually.
Through experiential learning practices, you will directly work to understand the functioning of your own body so that you can reconnect with your body, deepen your knowledge about your body and learn tools to help you in stressful situations. This workshop will be facilitated by Živilė Virkutytė and Johanna Rivera.
The tools used during the session are:
Somatic Movement Meditation (20 minutes),
A short theory of holistic anatomy and the relationship of inner and outer cycles (45 minutes),
Experiencing the healing power of touch (30 minutes),
Breathing exercises for self-regulation (20 minutes)
You will leave the session equipped with knowledge and experience of your body's intelligence.
---
Limited Seats – 15 people only. No previous experience or fitness level is needed to attend the session. We welcome everyone! Please bring your yoga / sports mat and comfortable clothes allowing you to move freely.
Duration of the workshop: 2 to 2.5 hours
Price – 350 NOK. People who need a financial support, please contact us on .
---
About the Facilitators:
Živilė Virkutytė is a theatre and dance artist, yoga teacher, somatic therapy student (UK) and co-founder of Less Stress project and podcast. Her approach to art and life practices have always been multidisciplinary. For the last 3 years, Živilė has been researching trauma and collective trauma, and the importance of applying emotional, physical and spiritual layers in the process of healing trauma and accessing creativity and vitality. You can follow Less Stress at @less.stress.art on Facebook and Instagram and visit their website at https://www.lessstress.info/
Johanna Rivera is a holistic women's health educator focused on sexual and reproductive health and rights. Her background combines scientific and traditional ways of tending to women's health and cycles. She creates a nourishing and safe space for women to find balance between their mind and body and connect with their inner cycles, so that they can take back their power to make conscious and informed decisions about their health. You can follow Johanna at @wild.and.the.moon on Instagram and Facebook and visit her website on www.wildandthemoon.earth