Virtual Event
Diversity and Inclusion in the Workplace: Race and Masculinity
November 30, 2022 @ 13:00

-

15:00

CET

Virtual Event

Free
Diversity and inclusion in the workplace is imperative for a sustainable, competitive and innovative company and society at large. Diversity also goes beyond the outward perception of a company – it includes how the internal structures work and signal the value systems of an organization's management or leadership team.
This series is designed by Diversify to centre Diversity and Inclusion in the Workplace. We look forward to seeing you!
---
In November, we take on the topic of masculinity and race. Our speakers for the event are Michael Adade and Danny Pierre-Louis. The session will be moderated by Chisom Udeze, founder of Diversify and HerSpace.
More information coming soon.
This event is FREE to attend. Please register below to receive the zoom link.
---
About the Speakers:
Danny Pierre-Louis is a dynamic leader in Human Resources, Corporate Training, and Sales. After achieving a Master's degree in Organizational Psychology, he has spent his career using learned skills to train and develop individuals in the nonprofit and retail industries.
Four years ago, Danny launched Complete Connections Consulting here in Oslo, designed to connect and coach executives in the greater Olso areas. Since then, he has worked with companies and organizations such as Synergy Today, Uber, Karrierehuset and Caritas to deliver informative training on how professionals can showcase their talents and transferable skills to attract the right opportunities via LinkedIn.
Danny prides himself on the knowledge, skills, and support his training provides international professionals to leverage the platform as a lead generation tool for themselves and their businesses.
From New York, Danny is experienced in the difficulties of finding opportunities in a new country where an individual's professional connections may be limited. He is committed to sharing his knowledge and experiences to help those career professionals better integrate into a new international setting.
Michael is a Big Ideas thinker, trained lawyer, business founder and owner and most importantly, father to 2 children. With a degree in Politics, Philosophy and Economics, and another in Law, it was while Michael navigated the legal corporate landscape that he identified his passion for business development and creating thriving operations. This eye for recognising opportunities and amplifying them led to collaborations with Nike Sportswear, London Fashion Week and Topshop.
Michael has also worked in corporate and political communications, both in the public and private sector, which has given him skills in creating effective engagement strategies. He believes in the power of listening and understanding needs, rather than prescribing solutions. Michael believes the key to growth in all senses is connecting people and catalysing talents to unleash potential.Michael arrived in Norway 5 years ago, and like countless others he felt the frustration of taking on roles which didn't make use of his competencies. As he navigated how to assimilate in a country not used to men like him, he felt the profound effects on his self-esteem and sense of masculinity. This experience forced him contemplate and recognise the privilege he enjoyed in certain spaces in the UK which were not afforded to him in the Nordics.
In light of these experiences, Michael now speaks on the opportunities lost where a robust Diversity, Equity, Inclusion & Belonging strategy is lacking. He recently contributed to Oslo Innovation Week 2022 by hosting a well-received panel on 'Super Connectors', as well as moderating a panel on Environment, Social and Corporate Governance (ESG).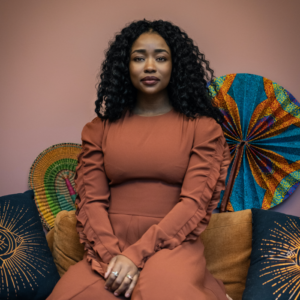 Chisom Udeze is an Economist, Organizational Design and DEI Strategist, and a 3 times founder with over 12 years of experience working with organizations like the European Commission, The United Nations and ExxonMobil. Chisom has an analytical mind and works to interrogate the cross-sectoral relationship between society's resources, production, distribution and output. She is adept at efficiently and effectively unlocking complex systems, data management, forecasting economic and social trends, and thrives in uncertain environments.
As the founder of Diversify, Chisom works with companies, governments and civil society to facilitate measurable diversity and inclusion initiatives in the workplace and society. In 2020, mid-pandemic, she founded HerSpace, a diverse and inclusive co-creation community for all genders, with particular focus on women-led companies and mothers. She is a thought-leader in Diversity, Equity, Inclusion and Belonging (DEIB) and a passionate advocate for mental health and wellness.